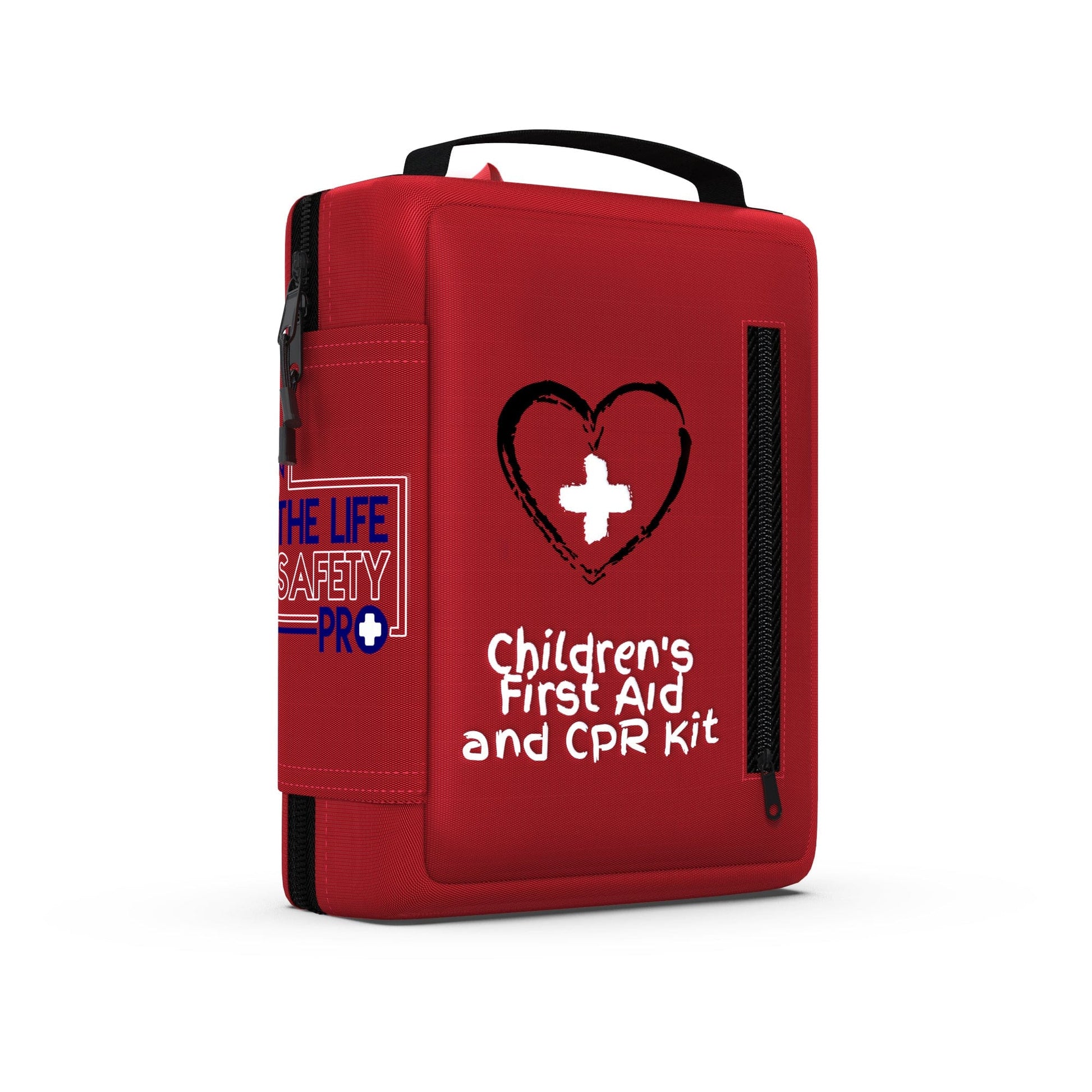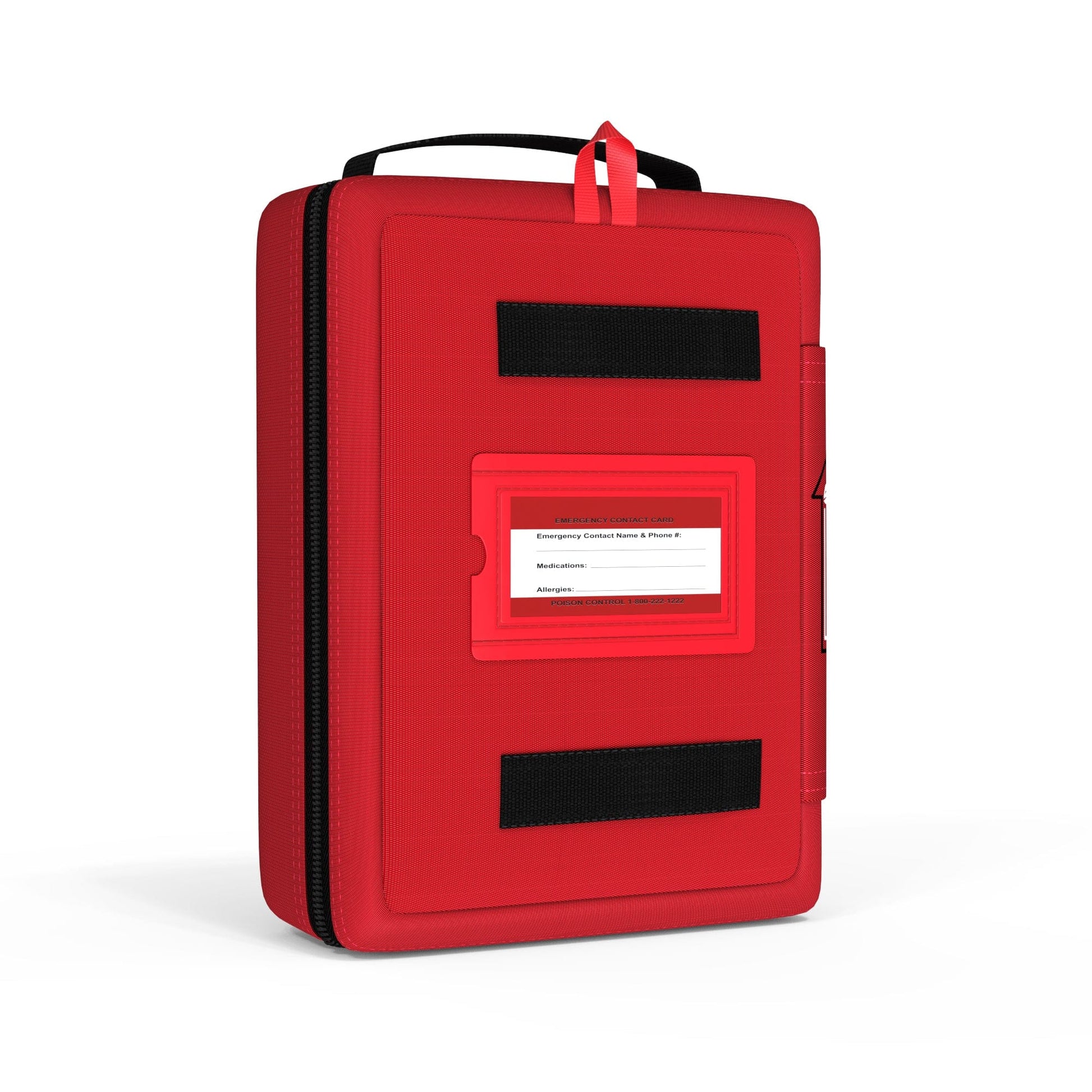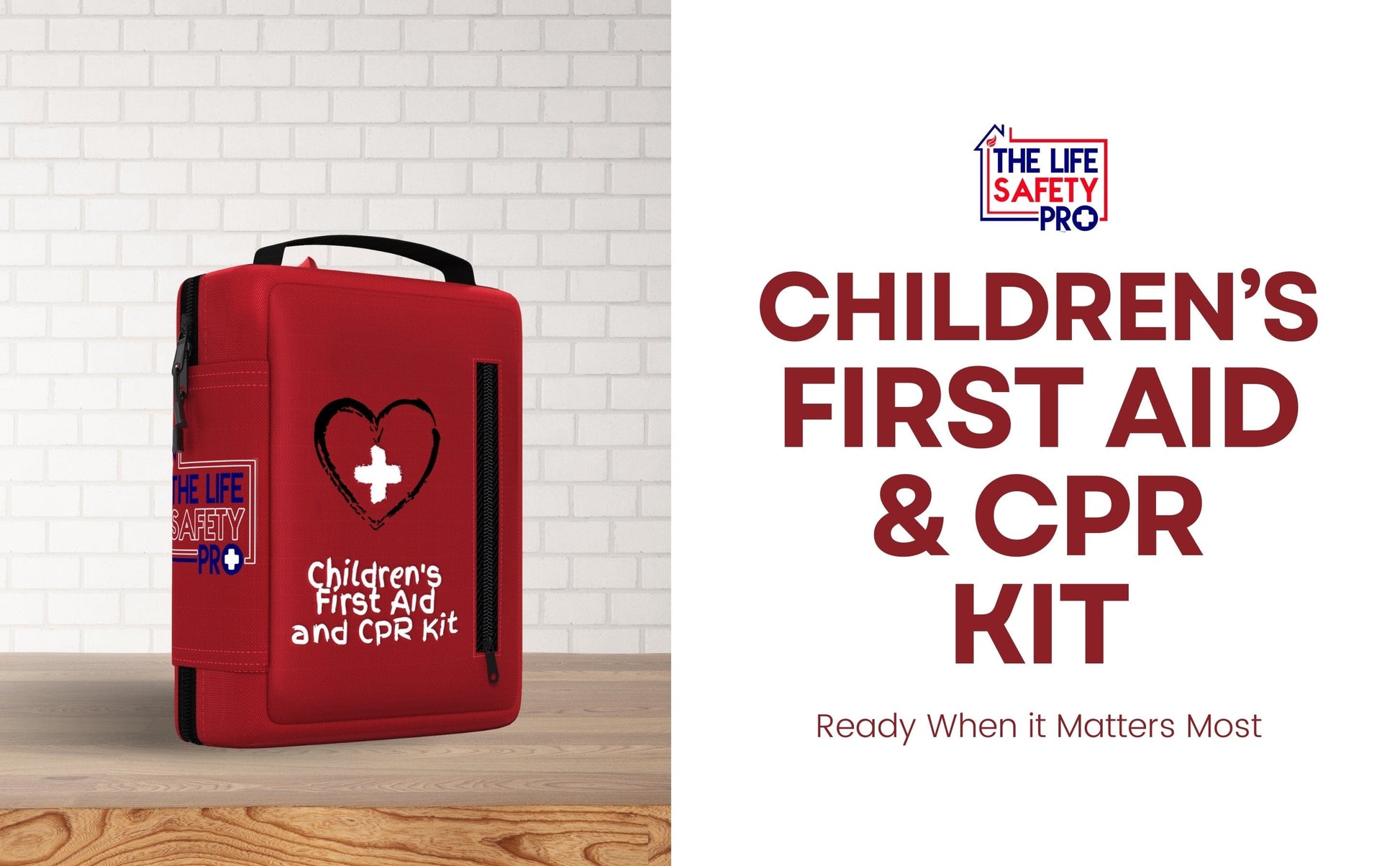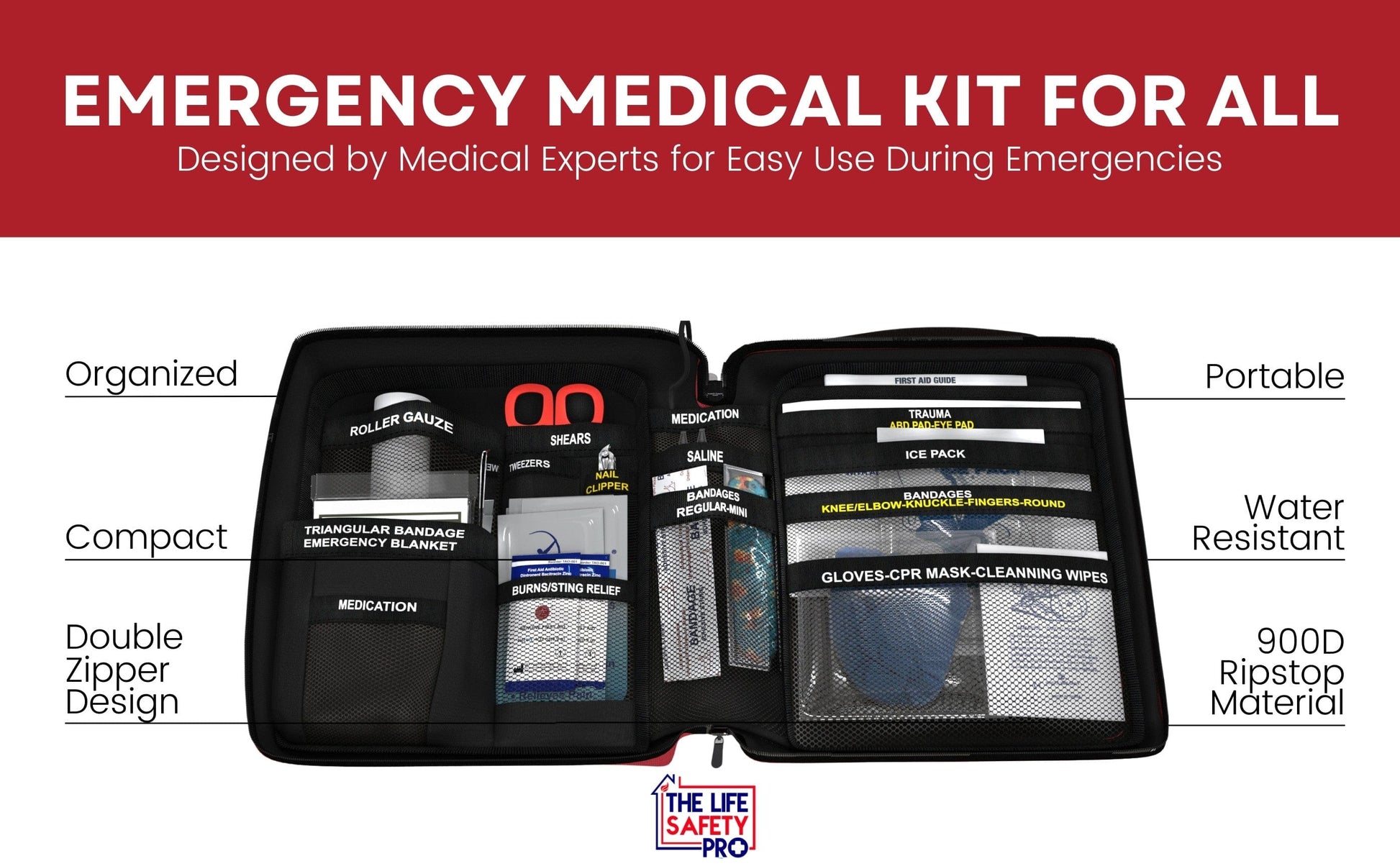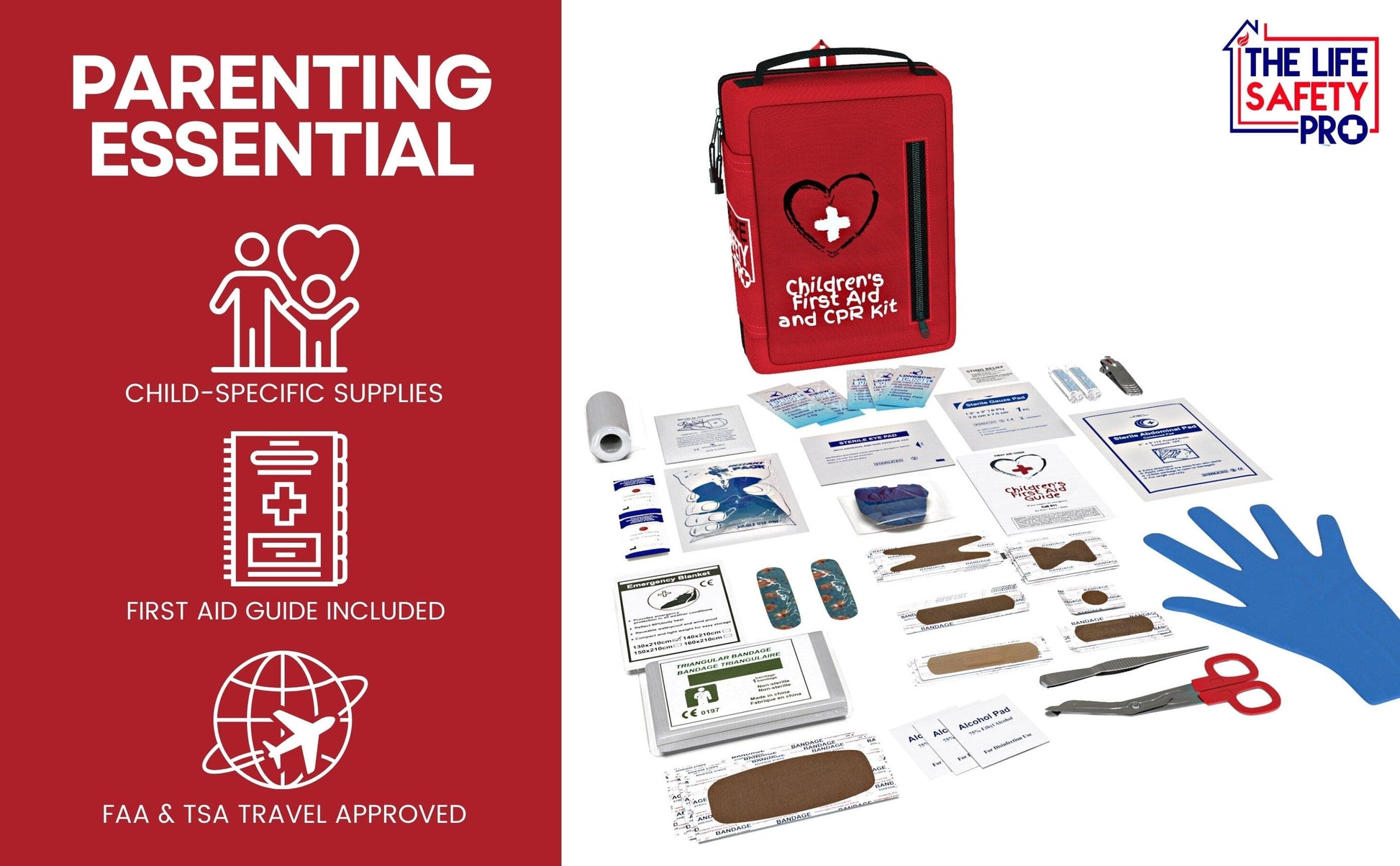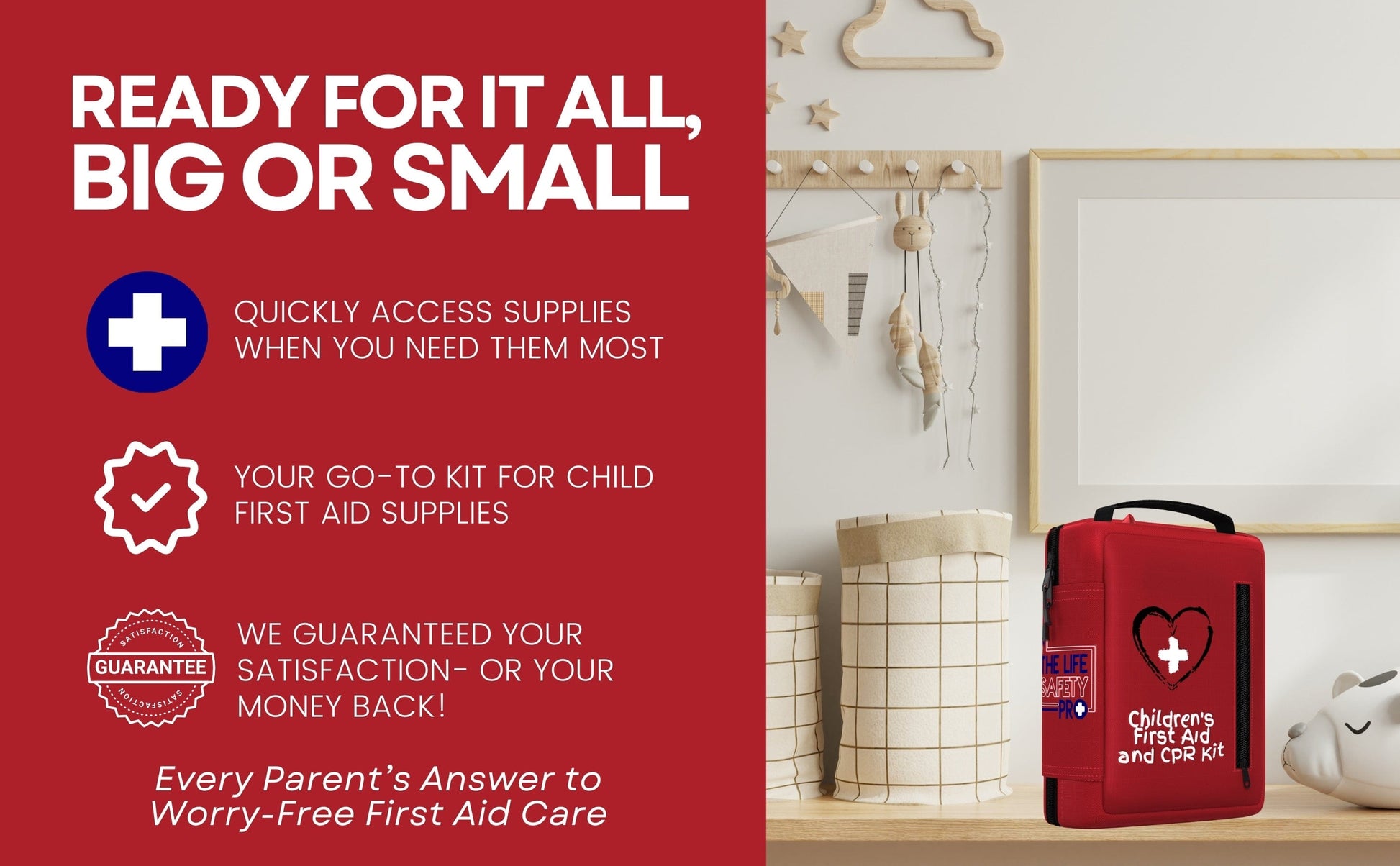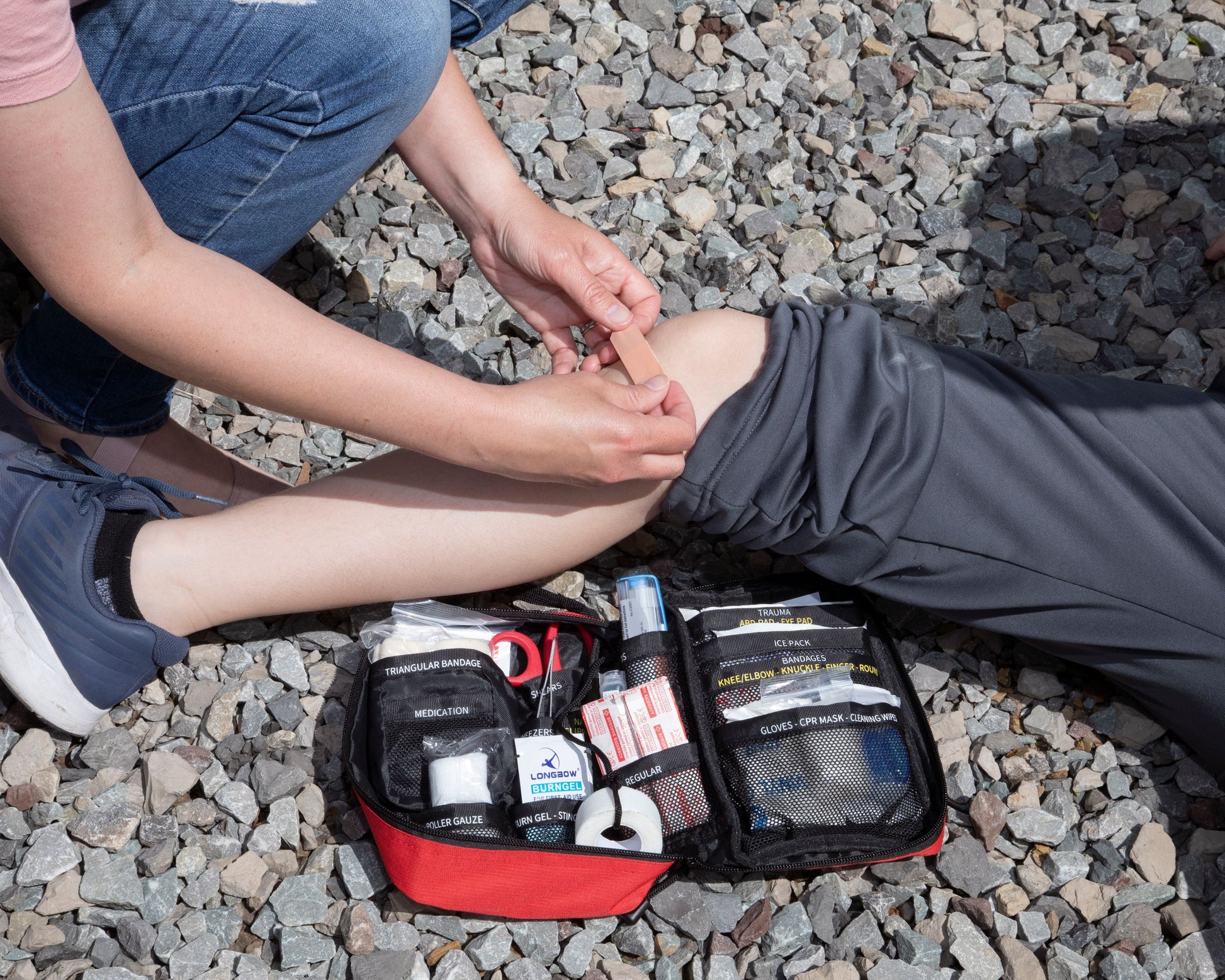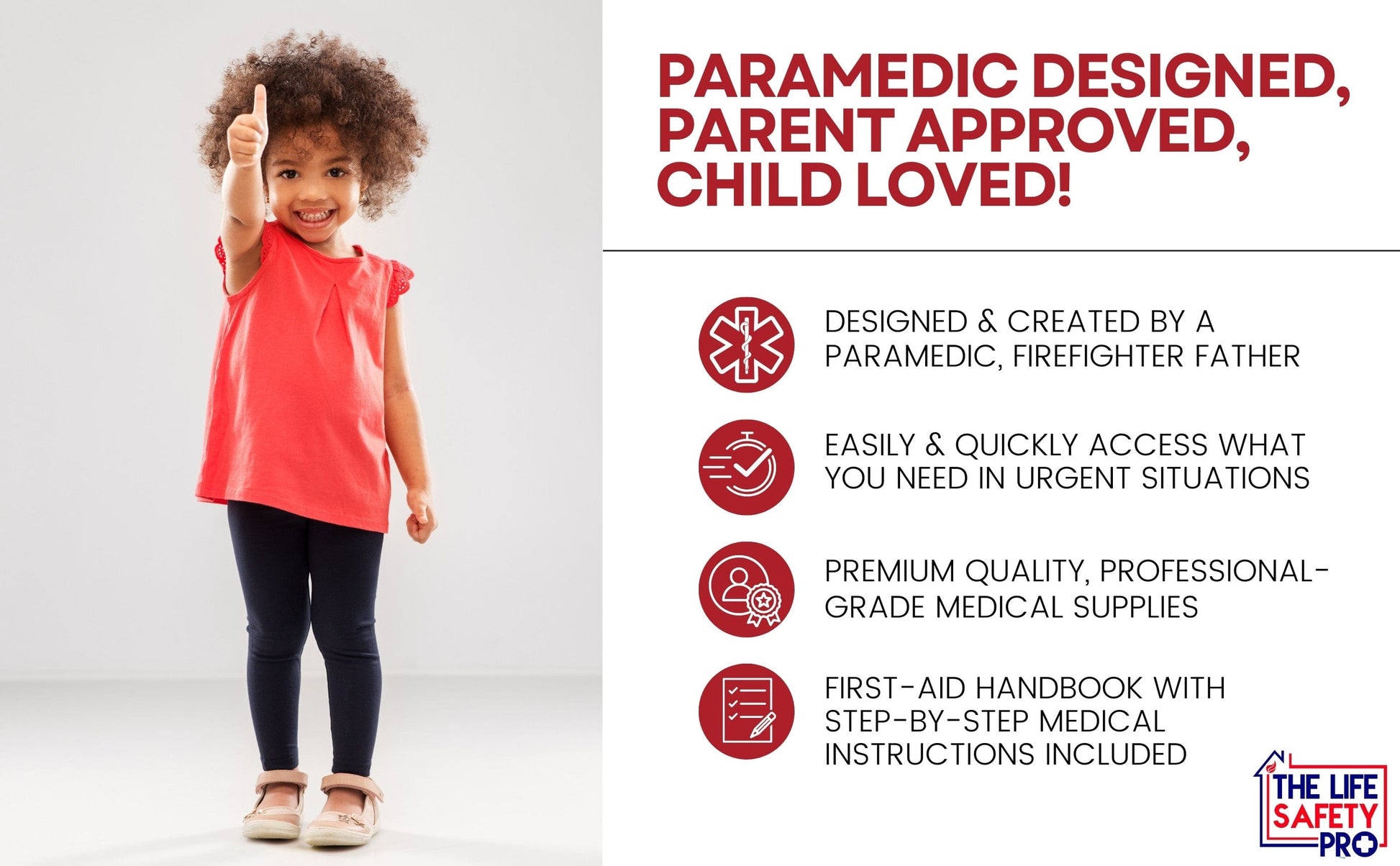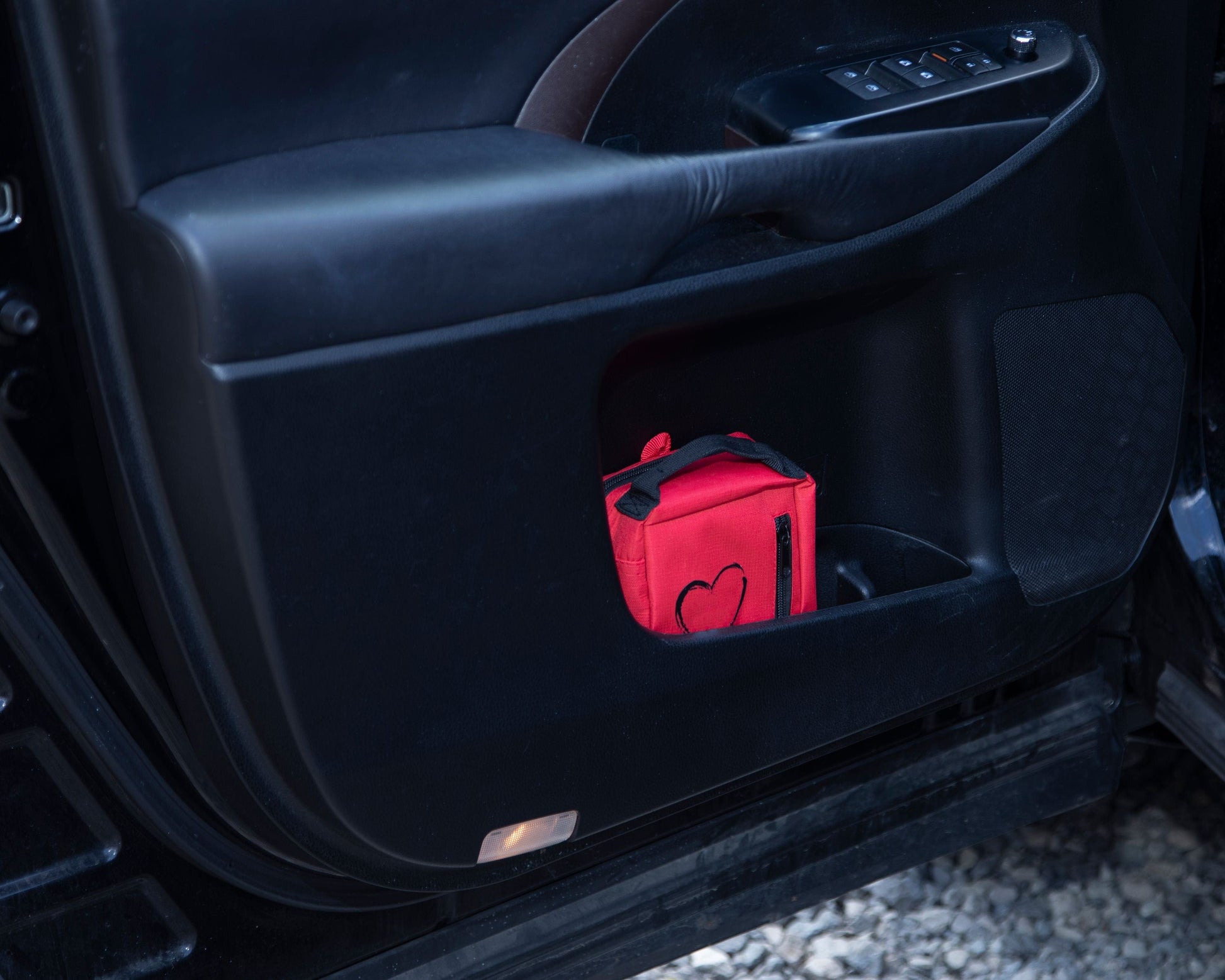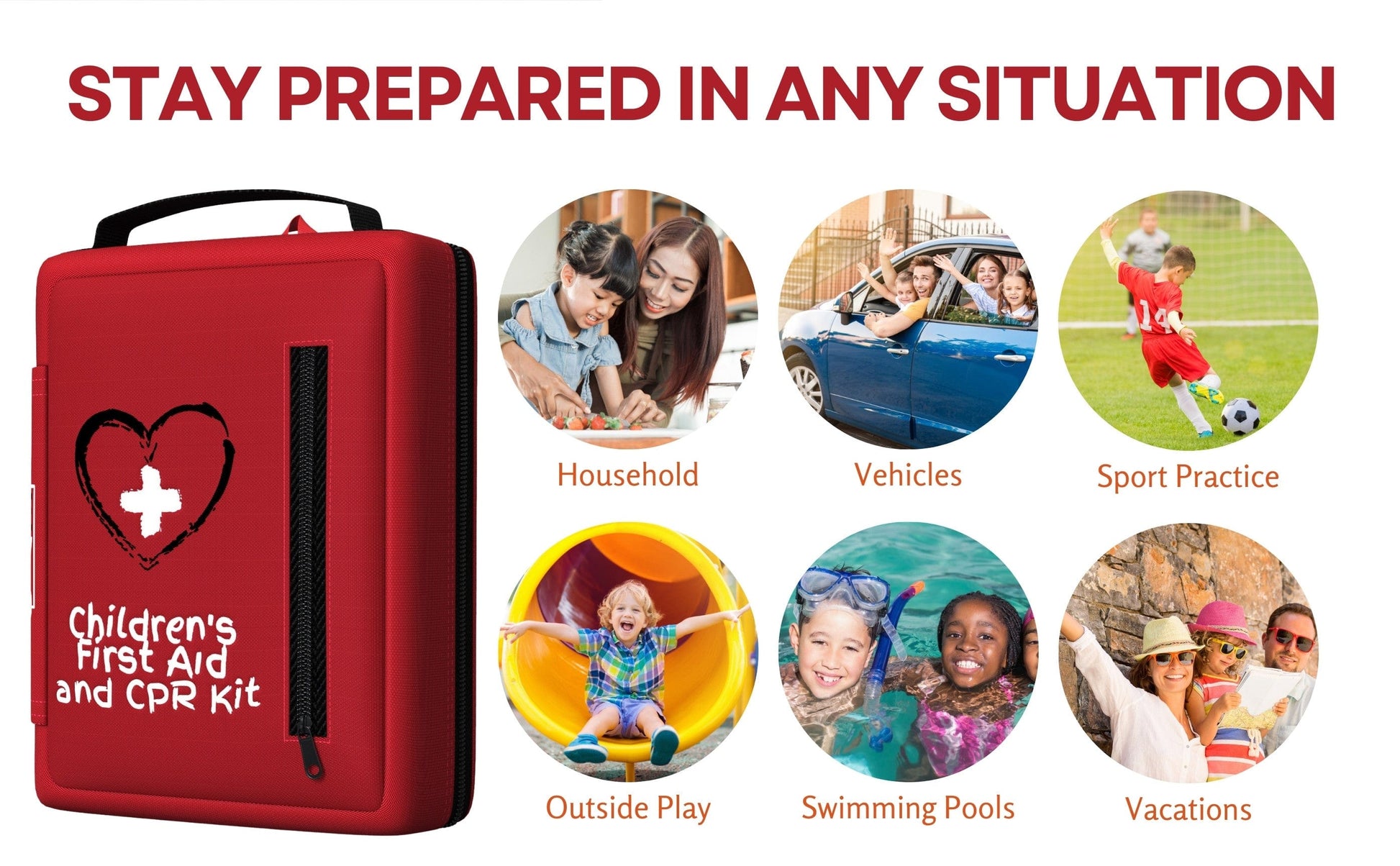 Sale price
$39.98
Regular price
$55.98
We are so Excited to Announce our Revolutionary Travel Children's First Aid and CPR Kit is available.

The Kits are currently here and Shipping. 
Thank You to Every Parent who gave us feedback to make this the Best and Most Complete Children's First Aid Kit Out There!
DESCRIPTION
A specially designed 100-piece kit that's great for kids of all ages. Made of rip-resistant fabric. It is Portable, compact, and lightweight, making it easy to take on the go. Neatly, well-organized and labeled compartments help you find what you need quickly.
You never know how your child will injure themselves, but with The Children's First Aid and CPR kit, you will be prepared for your child's emergency with the right equipment to help soothe your little one's tears quickly.
The Life Safety Pro's Children's First Aid and CPR kit include:
Child Fabric Designed Bandages (20)
Large Fabric Knee/Elbow Bandages (5)
Fabric Knuckle Bandages (5)
Fabric Fingertip Bandages (5)
Fabric Round Bandages (5)
Fabric Kids Mini Bandages (5)
Standard Bandage (10)
Waterproof Bandages (5)
Sterile Pads 3x3 (2)
Oval Eye Pads (2)
ABD. Pad (1)
Large Latex Free Gloves (2 pairs)
CPR Mask (1)
Antimicrobial Hand Wipes (5)
Ice Pack (1)
Burn Relief Gel (5)
Triple Antibiotic Cream (5)
Sting Relief (5)
Medical Grade Shears (1)
Nail Clipper (1)
Tweezers (1)
1-inch paper tape (1)
Roller Gauze (1)
Cloth Triangular Bandage (1)
Emergency Blanket (1)
First Aid Guide (1)
Emergency Contact Card (1)
This Kit was created and designed by a Firefighter, Paramedic, and Father who had trouble finding a first aid kit with everything needed for life's emergencies. This Kit comes in an easy-to-carry bag that doesn't have all the fluff and filler of a standard first aid kit, with only the things you need.
This Kit has you covered for your minor cuts, splinters, and hangnails to severe bleeding, burns, and other injuries.
At just 7.5" x 5.5", this latex-free Kit contains high-quality premium supplies. Making this small portable Kit is excellent for your car, backpack, diaper bag, and purse without losing valuable space or adding much weight.
Travel Ready:
Whether taking a trip to the park or backpacking through a local trail, our First Aid kit has everything you need to keep your children safe. Just throw it in a bag, stroller, or vehicle so it's easy to reach.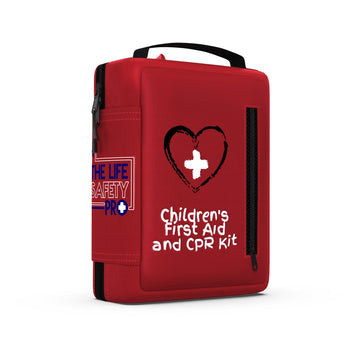 Children's First Aid Kit
Sale price
$39.98
Regular price
$55.98
Childhood death and injury can be prevented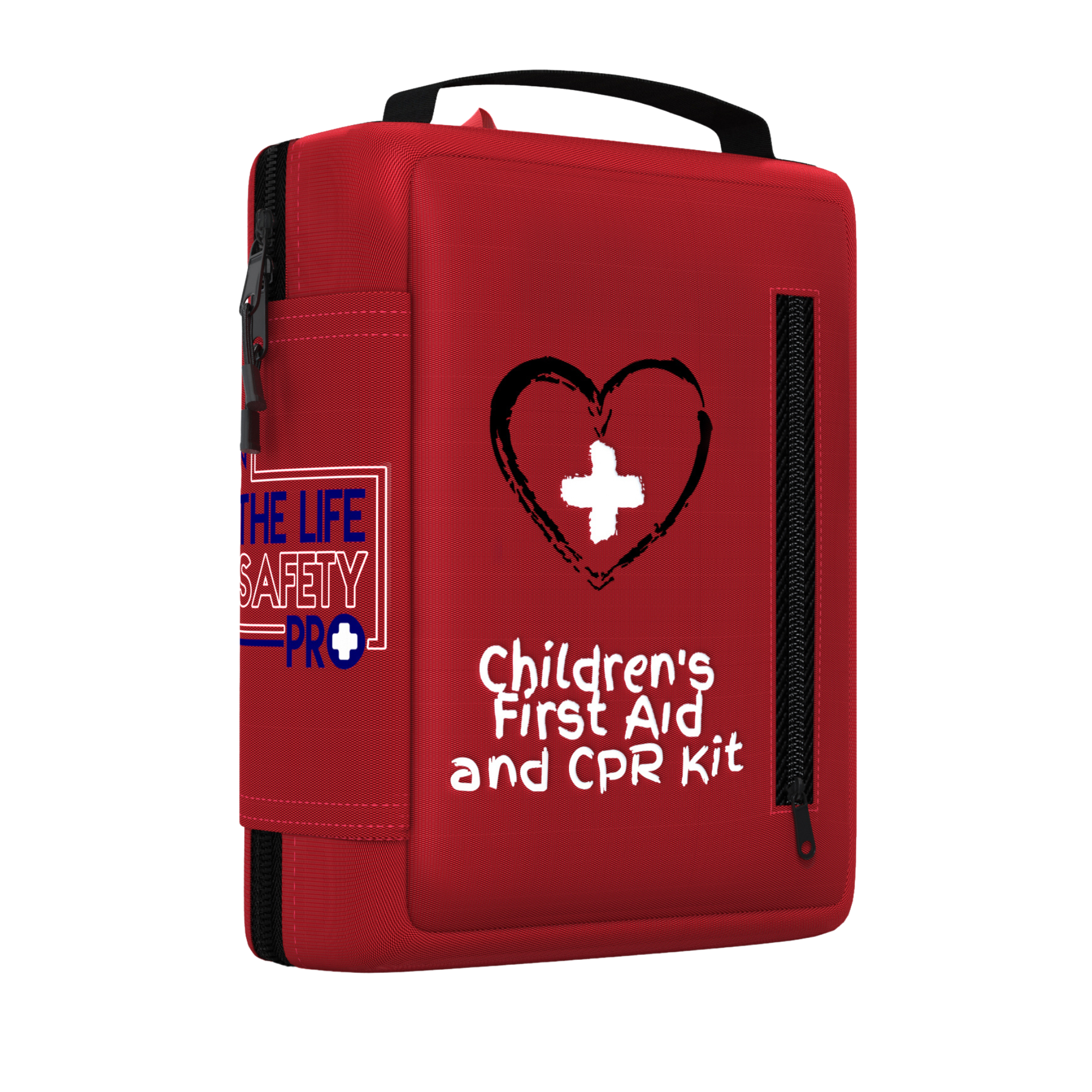 2/3 of childhood deaths occur to children under age 1 due to suffocation
Drowning is the leading cause of death for children age 1–4
Children ages 5-19 died most often from Motor Vehicle Traffic Crashes
Knowing what to do during a fire can mean the difference between life and death
Fire spread can become dangerous to life after just 2 minutes
Within 5 minutes a fire can engulf a house
YOU GOT QUESTIONS?
Frequently Asked Questions
We currently ship within the United States.
Yes. If you are not happy with your Order, let us know so we can make it right.
After your order has been processed, we will ship your package with UPS or USPS, depending on which service will get it to you fastest.
We accept all major credit cards and Paypal and BitCoin
Absolutely. When purchasing online using your credit card, all of your information is entered into a SSL secure web page. Your information is then SSL-encrypted and sent directly to our credit card provider's network, where your card and transaction is authorized and approved. Your credit card information is not stored on our servers.
If you have any further questions or concerns, just go to the "Contact Us" page and send us an E-Mail. Or send an email to support@TheLifeSafetyPro.com