News
Blaze a Trail to Safety - It's Fire Prevention Week!
by Jeremy Manke on Oct 11, 2023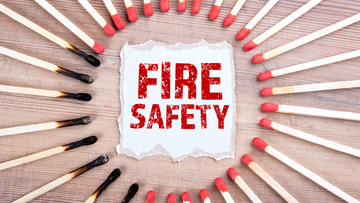 Hey there, Safety-Conscious Super Parents!
 As the leaves turn brilliant shades of red and orange, and the cozy scent of pumpkin spice fills the air, it's also time to shine a light on something equally important: Fire Prevention Week (Oct. 8-14)!
 Campfire Safety: S'more Fun, Less Risk
 What's fall without a good ol' campfire? Toasting marshmallows and telling ghost stories are classic activities, but let's ensure it's all fun and no fright. Teach your kids the importance of maintaining a safe distance, never playing with fire, and having adult supervision at all times. S'mores taste sweeter when everyone is safe! Even if you like your Burnt!
The Great Escape Plan
Speaking of fire safety, let's talk about the great escape plan. Make it a family affair by involving your little ones in creating an escape plan. Draw it out together, practice regularly, and designate a safe meeting spot outside. And always have at least 2 ways out. Remember, practice makes perfect and always keep those doors shut while sleeping!
Smoke Alarms Are Superheroes
Smoke alarms are like superheroes for your home. Make sure you have them installed on every level of your house and in every sleeping area. Test them monthly, if you need to replace the battery (when you change the clocks), and replace the whole unit every ten years. Super simple, super safe!
Did you know they make smoke detectors where you can add your own voice? Studies show children are 3 times more likely to be awakened by a voice alarm than by the tone alarm.
Make sure you have one on each level of your house and in sleeping areas. 
Cooking Up Safety
Now, who doesn't love a good fall feast? When you're cooking up a storm in the kitchen, always keep a close eye on the stove. Make it a rule: no littles wandering near the stove while cooking. And keep those kitchen towels and oven mitts away from the burners.
If you do have a stove fire, try to smother it or use baking soda. NEVER try and take the burning pan outside. It could catch your entire house on fire.
Cooler Temps, Cozier Safety
 As the temperature drops, cozying up with blankets and heaters is a must. Just remember to keep anything that can burn at least three feet away from space heaters, fireplaces, and wood stoves. A snuggly night in is fantastic – a fiery surprise, not so much!
Fire Prevention Week is the perfect time to reinforce the importance of fire safety with your family. Stay safe, stay informed, and have a fire-tastic Fire Prevention Week!